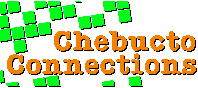 WELCOME
to the monthly newsletter of Chebucto Community Net
in Halifax, Nova Scotia, CANADA.
The October 1995 CHEBUCTO CONNECTIONS offers much to see...

Feature of the Month Digging up our history


ip Corner Pages and IP Organization


Community Net Operations Protecting Your Password


CCN Board Notes Board Changes and Finances


Hot Links Seasonal Links for Hallowe'en


Questions and Answers Visiting Community Nets


Seniors Corner Spencer House Activities


TIPS for Newbies Starter Spots


TIPS for Power Users Imagemaps on CCN


Youth Corner IRC and 'Hacker' Movies


Volunteers Word on the Street


Top TEN CCN User Profiles
---

PAST ISSUES OF CHEBUCTO CONNECTIONS
---

NEXT PAGE

CHEBUCTO COMMUNITY NET HOME PAGE
---

CHEBUCTO CONNECTIONS
is edited by Robert E. Currie who is happy to receive
Questions, Comments or Suggestions for Future Issues.
If your browser does not support mail, write to Rob later at aa019@ccn·cs·dal·ca.

Chebucto Connections is designed by Peter Henry.