---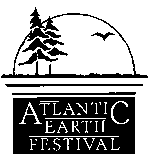 Atlantic Earth Festival's Virtual Festival
This page contains links to friends of the Atlantic Earth Festival . . . a virtual Festival that lasts all year!
Link us to your page and we'll do the same . . . EMail

---
Action Resources OnLine - Listing and frequently asked questions
---
Nova Scotia Public Interest Research Group - NSPIRG-Dal is a non-profit organization funded and directed by Dalhousie University students and community members. Our goal is to conduct research and take action on issues of social justice and the environment.
Through research, proactive education, outreach, networking, and action, NSPIRG empowers people to become active participants in the decisions which affect their lives.

---

Sierra Club
Atlantic SectionEnvironmental preservation and protection.
Paul Falvo
PO Box 36093
Halifax NS B3J 3S9
Tel/Fax: (902) 492-1995

Sierra Club of Canada
Elizabeth May
412 - 1 Nicholas St
Ottawa ON K1N 7B7
Tel: (613) 241-4611 Fax: (613) 241-2292

Sierra Club of Atlantic Canada - The most effective grassroots environmental group in North America has opened its doors in Atlantic Canada! Local volunteers are working to set up a regional chapter which will have satellite groups throughout Atlantic Canada. Although traditionally associated with outings, the Sierra Club of Canada is a significant player in environmental conservation.
---
CUSO's Sustainable Times is a national quarterly newsmagazine published out of Halifax. The hope of the Times is a society guided by environmental sustainability and fairness, not short-term profit. The newsmagazine highlights alternatives from Canada, First Nations and the Developing World, and features success stories and action ideas. Free copies of the off-line version (made with real recycled paper and ink that rubs off on your hands) will be available at the Earth Festival.
For more information, call (902) 423-6709.
---
Green Dalhousie - Environmental information at Dalhousie University
http://is.dal.ca/~greendal/
greendal@is.dal.ca
This was started by some students in a course, and will be expanded. One expansion project we have started is to set up the Dalhousie Virtual Second Hand Store , which is a site to encourage re-using materials by offering a place where people can place ads to buy/sell their used stuff. In particular, students may be interested in placing ads to sell or buy second hand course textbooks.
We could use help with this and other projects. If you are looking for something to do, contact wayne groszko
---
Chebucto Community Net
Joe Baker
902.494.2449
* Helps meet the personal and professional information needs of the population

* Fosters communication among individuals and the institutions that serve them

* Supports community groups in providing outreach and community service.

* Enhances opportunities for sustainable community-based economic development

* Creates a fovourable environment for business and employment growth

* Enhances computer literacy skills of the general public to interact with the information highway.
---
Green Future Foundation
This preliminary attempt at a 'canonical' collection of progressive material includes text files and nearly 2000 links to material on environment, ecology, green economics, feminist resources, community activism, and more.
---

EarthSave Canada
Holly Stewart, Office Manager
Ethical food choicesSuite 103 - 1093 West Broadway,
Vancouver, BC V6H 1E2
Tel: (604) 731 5885
Fax: 604) 731 5805

EarthSave Canada is a non-profit, educational organization promoting awareness of the environmental, ethical and health consequences of our food choices. EarthSave is dedicated to helping create a better world by showing the powerful impacts of our eating habits and promoting positive alternatives, and encouraging sound nutrition, conservation of resources and sustainable agriculture. A plant-based diet is optimum not only for our own health and the environment, but also for animals increasingly raised in inhumane factory farming conditions.

Green Party of Canada,
Natural Life Magazine
Wendy Priesnitz
Politics; Environmental magazine
RR#1,St. George,
ON N0E 1N0
Tel/Fax: (519) 448-4001

Green Party of Canada - A national political party that supports ecological, social, and economic sustainability.Natural Life Magazine - Natural Life is a 20 year old national periodical providing news, how-to information and inspiration on the environment, sustainable living, local and individual self-reliance. Article themes include organic gardening, home schooling, Community Economic Development, home business, communities and more!
---
Nova Scotia Nature TrustRoss Cantwell
Conservation, land trusts
PO Box 2202
Halifax, NS B3J 3C4
A nature trust is a conservation organization whose principal purpose is the protection and preservation of land for public benefit. The Nova Scotia Nature Trust is a non-profit, non- governmental organization that works with private landowners at the community level to preserve areas of regional or local significance, by means of conservation easements and creation of "Nature Trust" properties.
---
Universalist-Unitarian Church of HalifaxRoger Davies
Social action
5500 Inglis Street
Halifax, NS B3J 1J8
Tel: (902) 429-5500
or 457-4351

The Universalist-Unitarian faith is a liberal religious community affirming the inherent worth and dignity of every person; justice, equity and compassion in human relations; acceptance of one another and encouragement to spiritual growth; a free and responsible search for truth and meaning; the right of conscience and use of the democratic process; the goal of world community with peace, liberty and justice for all; and RESPECT FOR THE INTERDEPENDENT WEB OF ALL EXISTENCE OF WHICH WE ARE A PART.
---
Journal of Political Ecology
---
Rainbow Maker;
Fred.Stern@Zianet.com
Fred Stern is an artist who uses large scale pumps to create a water mist which refracts the sun's light to create natural rainbows as large as 2000 feet across. The rainbow is a reminder that our future depends on our willingness to work together as global citizens. The image represents a request to consider using artists with non verbal sensibilities as an alternative to weapons and force in negotiating conflicts.
He is presently completing work on a multidimensional book, "A Rainbow Makers Handbook". He anticipates kids all over the U.S. getting city governments to bring out fire equipment so they can create rainbows. Stern says "You can never have too many Rainbow Makers." Although his rainbow work began as Conceptual Sculptural Pieces they have moved into the arena of Public Art works as a symbol of peace and unity in support of our planet. Last summer he created a natural rainbow as a holocaust memorial for the Eutopia Festival in Potsdam Germany. He is working on creating a rainbow in Israel as a visual metaphor for peace in the Middle East.
---
---
AEF HOMEPAGE
html by ab006@ccn.cs.dal.ca
---